For SIS, as for all other organizations, 2020 was a year marked by a pandemic. We started working completely remote early, we switched to working from home on 13 March. After that, we worked to develop and change our educational courses and at the beginning of May had five digital educational courses and a standardizationdepartment that worked completely digitally, says SIS CEO Annika Andreasen.
During 2020 more than 4 800 Swedish experts participated in this work representing almost 1 600 private and public organisations.
Here you can take part of SIS year in review 2020, where we, among other things, talk about new standards, our work on sustainability and SIS participation in several international standardization work.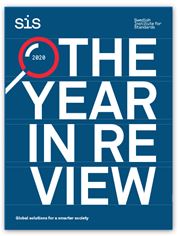 The Year in review 2020
Download the pdf [EN]

The Year in review 2019
Download the pdf [SE]
The Year in review 2018
Download the pdf [EN]
---